Almost everyone loves intensely chocolatey and perfectly fudgy chocolate brownies and if there is one time of year when we can treat ourselves to some decedent baking it has to be in the depths of winter.
Chocolate brownies are indeed a real indulgence and, when made properly, definitely give you a feeling of treating yourself to something slightly naughty!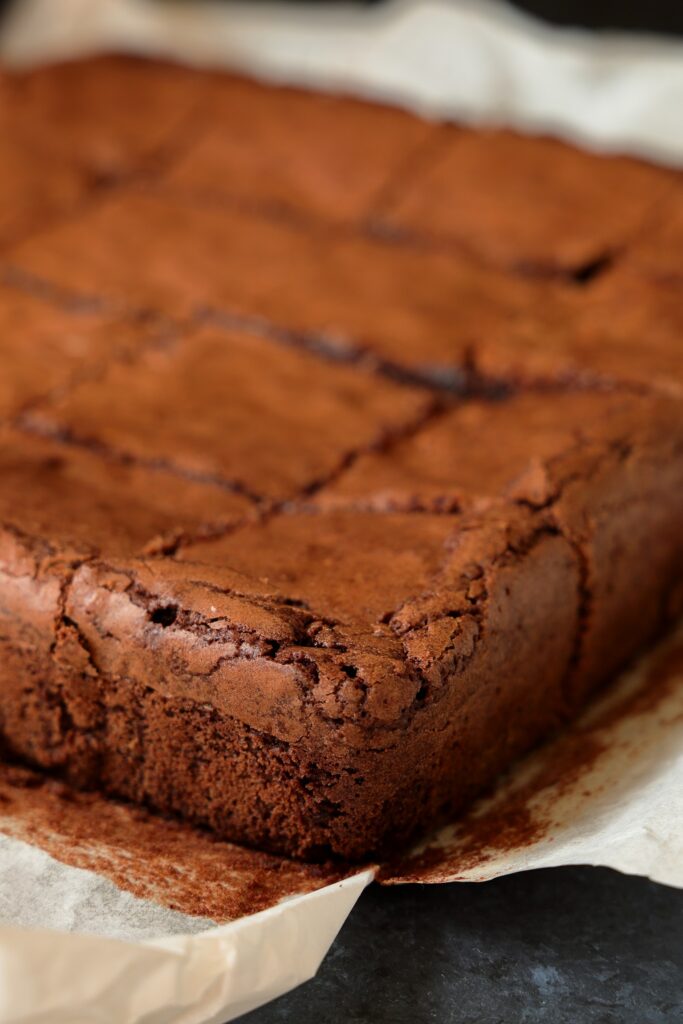 Why Make Brownies At Home?
Home baked brownies are so far superior to anything found in a supermarket that they simply cannot be compared.
Shop bought brownies tend to be overly sweet, dry and cakey, missing that all important fudgy texture that is the epitome of a really good Chocolate brownie.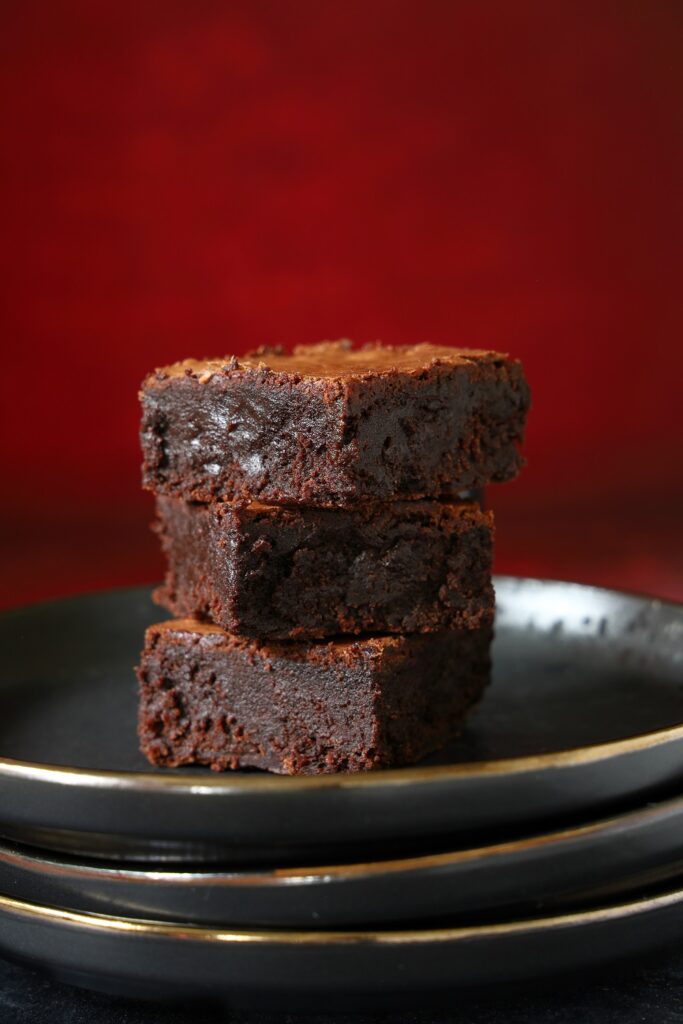 Are They Expensive To Make?
While brownies are never going to be super cheap to make they really are worth it as a special treat (and everyone deserves a special treat now and again!) and a small portion goes a long way, giving you a super intense chocolate hit!
Anyone who loves browsing the Christmas markets at this time of year or any of the food and farmers markets throughout the year will know just how much a single square of chocolate brownie costs when bought from one of the stalls selling home baked cakes and biscuits – at the moment around £3.00 per square seems to be the average (depending on where you live of course) and around £2.25 at cafes like Costa.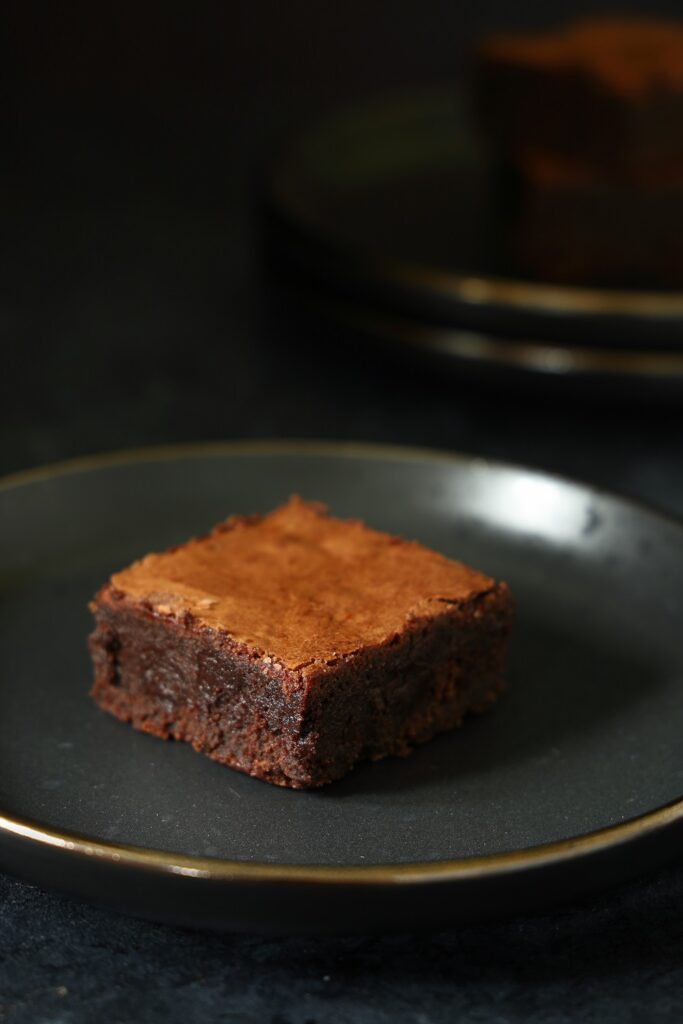 Luckily brownies are very easy to make at home and while the ingredients are a little on the expensive side, there are only a few needed!
Ingredients
200g unsalted butter (block baking margarine will work too)
200g dark chocolate, broken into squares
4 eggs
250g caster sugar
100g plain flour
45g cocoa powder
You will also need:
a 23cm / 9″ square baking tin lined with greaseproof or parchment paper
a stand mixer or hand held electric mixer
Weighing scales
Sieve
Large metal spoon
Spatula
How to make The Very Best Chocolate Brownies You've Ever Tasted!
Put the butter and dark chocolate into a heatproof bowl and place the bowl on top of a saucepan of just simmering water – make sure the bottom of the bowl doesn't touch the water and that no water gets into the bowl.
Stir the butter and chocolate together as they melt slowly then, when it is fully melted, take the bowl of the saucepan an leave to cool.
In a separate small bowl sieve together the flour and cocoa powder.
Pre heat you oven to 180°c / 160° fan / gas mark 4
Now place the eggs and caster sugar into a large mixing bowl (or the bowl of your stand mixer if using) and whisk together until they become very pale – this should take around 4-5 minutes.
The mixture will be ready when the whisk is lifted and the mixture leaves a ribbon-like trail on the surface.
Pour the cooled butter and chocolate mixture over the mixture and fold in gently with a large metal spoon so as not to knock out the air that's been incorporated by all that whisking!
Sieve the flour and cocoa onto the mixture and gently fold in using a large metal spoon until it's all fully incorporated.
Pour the mixture into the lined tin using a spatula to get it all from the bowl (don't want to waste any of that lovely chocolatey mixture!) and bake in the centre of the oven for 25-30 minutes.
Test the brownies after 25 mins by inserting a cocktail stick or the tip of a sharp knife into the centre of the cake – there should be a little stickiness to the brownies but not raw mix clinging to the cocktail stick of knife.
If the cocktail stick or knife point comes out totally clean then the brownies are overbaked! Not much you can do about that at this stage but look on it a s learning curve!! The brownies will still taste lovely!
Once baked, leave to cool completely in the tin then, when cold, place the tin in the fridge and leave overnight – this will give you that lovely fudgy texture!
How Many Portions?
Next day, remove the brownie from the baking tin and cut into squares – 16 pieces for large square portions or up to 32 bite size portions.
This is easier and neater to do with a large knife that has been warmed in hot water and then dried before cutting the brownies.
If you can't wait to tuck into your freshly baked brownies, please don't try to remove them from the tin whilst still warm as you risk them falling to pieces! Have a little patience and let them cool before attempting to cut them.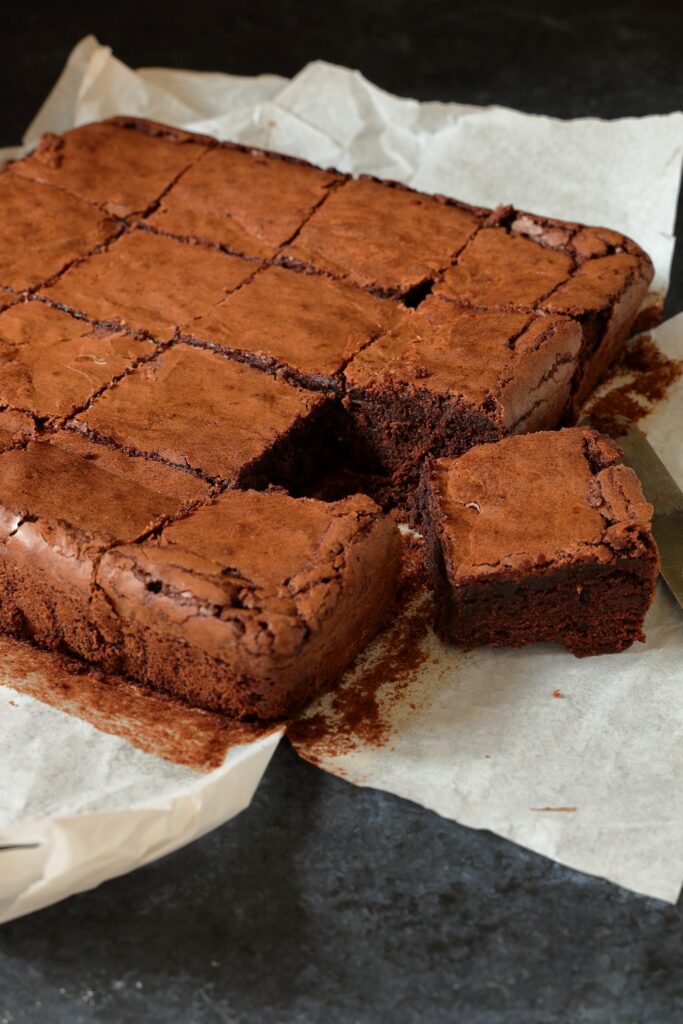 Keys To Success
The whisking of the eggs and sugar and the baking time are the key to making perfect brownies.
Make sure that you whisk the eggs and sugar until the are at least doubled in volume and have incorporated enough air to leave that ribbon-like trail on the surface.
Catching the brownies at just the right moment of baking is also the other key to perfecting brownie baking!
A couple of minutes can be the difference between raw centres or cakey brownies! I my oven, which is a Neff fan oven, this recipe is perfect at 28 minutes but all ovens vary so carefully monitor your bake to determine the optimum baking time.
Cake or Dessert?
Well, there's no right answer of course!
Brownies are delicious eaten just as they are. Remove from the fridge and allow to come to room temperature before eating though for the best flavour and fudgy texture. Enjoy with a cup of freshly brewed coffee.
They are also delicious as a dessert when served with Homemade Vanilla Ice Cream, a drizzle of pouring cream or a big spoonful of sweetened whipped cream.
Added Extras!
Once you've mastered this (easy!) recipe for the very best brownies you can think about little extras that you can add into the batter before baking.
Classic additions are even more chocolate in the form of chocolate chips, either dark, milk or white or a mixture of all three! Add around 200 – 250g total and stir in just before the batter is poured into the tin ready to be baked.
Another classic combination is of course orange and chocolate.
Add the grated zest of a large orange into the batter before baking and include some dark chocolate chips too.
For lovers of ginger try adding 100g finely chopped crystallised ginger to the batter before baking along with some dark chocolate chips
For more of a fun addition take your brownies, chop up your favourite chocolate bar into bite-size pieces and stir into the batter before baking. If the chocolate bar has a soft centre, freeze the pieces after chopping then stir into the batter when they are solidly frozen. This will help them hold their shape throughout the baking process.
Solid chocolate bars can just be chopped and stirred into the batter. There is the potential to add some lovely flavours with these as there are so many interesting flavours to choose from – just choose your favourites!
Any natural flavouring extracts can also be added for a quick and easy way to add different flavours. Mint, orange, almond are all lovely additions.
Perfect as Homemade Gifts
It's always nice to arrive at a friends house with a little gift and a box or tin of these brownies will be so very much appreciated!
Pretty tins can easily be found in charity shops. Line them with some greaseproof paper and fill them with your homemade brownies!
They make great edible gifts too at any time of year!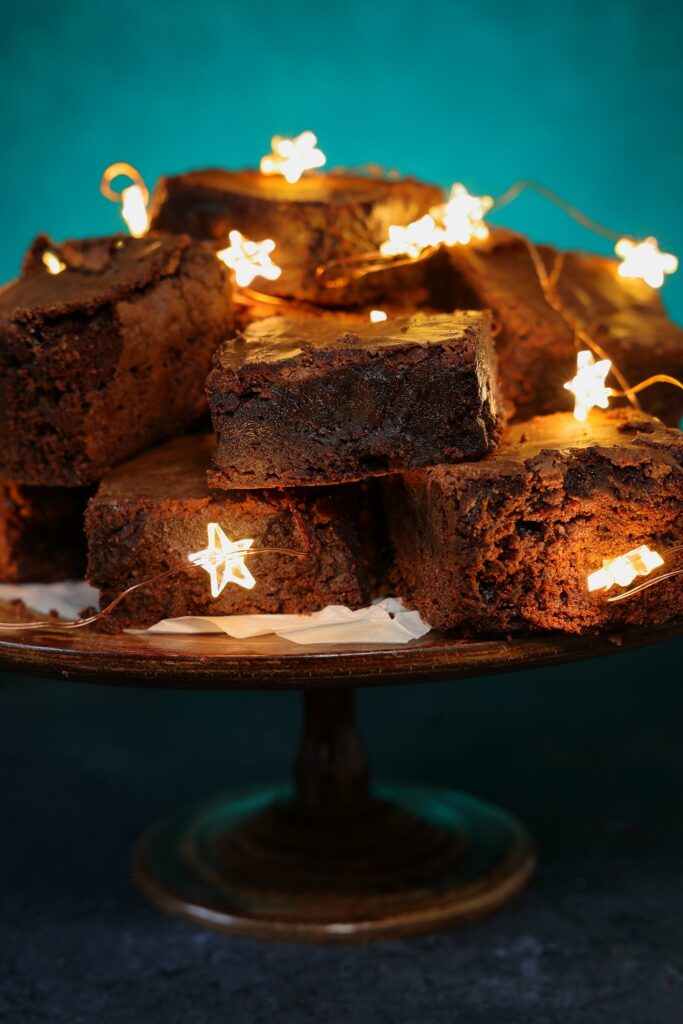 Items We Recommend: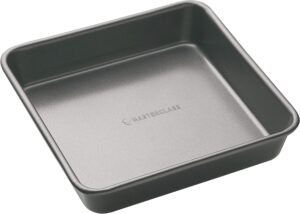 Really good, solid baking tins are worth the investment. They will give you years of service and make sure that all of your cakes bake perfectly!
Sieve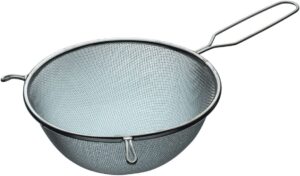 A good metal sieve is far more durable that plastic and nylon ones. They are less likely to break and can handle hotter liquids
Spatulas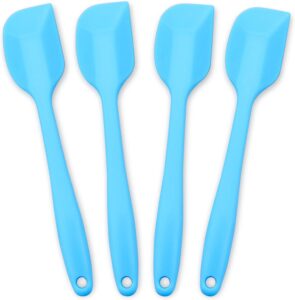 A good set of easy to clean spatulas are a must for every kitchen!
Looking for more Chocolate recipes?
Find more of our chocolate recipes HERE