This Tikka is such a simple recipe but one that packs in a lot on the flavour front.
This vegetable tikka is one of my all time favourite recipes! I just love how all of the ingredients work so well together creating a super-tasty meat-free feast that is very economic to make. It is also very quick to prepare and can be popped into the oven in just a few minutes.
It's well documented that for sustainability we should all be eating less meat and with recipes like this, you will find it easy to make the switch to veggie packed meals at least a couple of times a week!
As it's cooked in the oven it's a good idea to make something else alongside to make the most of the oven heat.
When the oven is being used for this recipe I like to at least bake a batch of biscuits – Peanut Butter & Oat Biscuits are currently my favourites (they certainly don't last long!!) or a simple cake like our very popular Exceedingly Good Country Slice Cake or even just a batch of our Perfect Scones. It's good to get the treat tins topped up with what is basically free heat!
The tikka is cooked in one pot too so reduces the amount of washing up!
Ingredients
500g sweet potatoes – any colour is fine but red, orange & yellow have the best flavour
300g bell peppers
2 onions
1 tablespoon vegetable oil
2 tablespoons Tikka paste
1 x 400g tin chopped tomatoes
1 x 400g tin beans – butter beans, cannellini or haricot or chickpeas if you prefer
How to make Red Pepper, Bean & Sweet Potato Tikka
Pre heat the oven to 160° fan / 180°c / Gas Mark 4
Put the vegetable oil into a flameproof and ovenproof casserole dish and place over a medium heat.
We Recommend: Cast Iron Casserole Dish
CLICK ON THE PICTURE TO BE TAKEN TO AMAZON FOR MORE INFORMATION – OPENS IN A NEW TAB
A good cast iron casserole dish will last a lifetime and can be used for many different recipes.
Whilst I appreciate luxury brands like Le Creuset have a huge following, there are now a lot of less expensive alternatives to choose from.
Peel the sweet potatoes and chop into good size chunks.
Deseed and slice the peppers then peel and slice the onions.
When the vegetable oil is hot, tip in the vegetables , turn up the heat and cook until they start to colour.
Add the tikka paste to the pot and stir to coat the vegetables.
Tip in the tinned tomatoes and beans and stir together. Fill one of the tins with water and stir that in too.
Cover the pot and put into the oven for 1 hour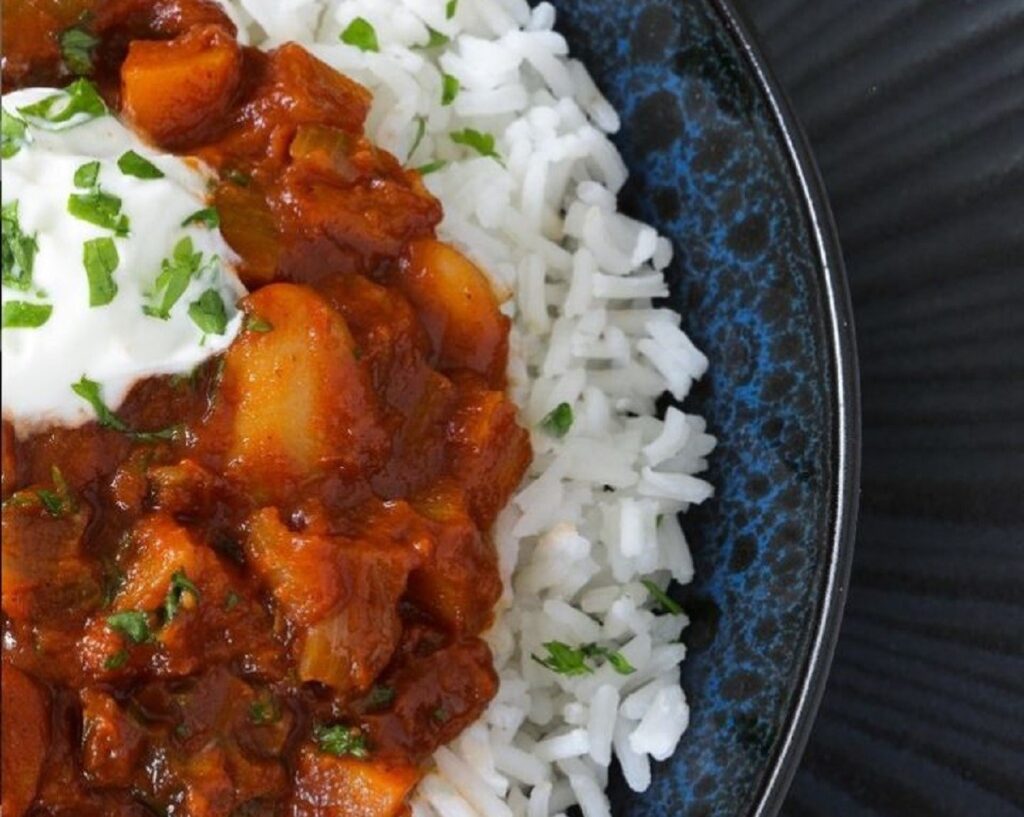 To Serve
Tikka is delicious served with plain white long grain rice but you could ring the changes (and pack in a few more veggies!) and serve with vegetable rice.
Top with a generous spoonful of plain yogurt if desired.
For big appetites serve with naan bread, poppadom's or even some of our Everyday Bread Rolls