Limescale is a problem wherever there is water in your home and if you live in a hard water area then you know more than most how quickly your taps, shower doors and kettles can become dulled with the milky deposits left behind as water evaporates.
There are loads of chemical treatments for removing limescale and some of them are not at all pleasant to use so when we saw that Cillit Bang had a new product to tackle the job, we just had to give it a try!
Cillit Bang uses the phrase 'Naturally Powerful' to indicate that this product is made from only natural ingredients and indeed there is a statement on the front label of the bottle at the bottom that assures us of '100% naturally derived ingredients'.
The main ingredient used is concentrated citric acid. This is exactly what you will find in lemon juice so all of those recommendations you see to wipe your taps with half a lemon will have a similar effect.
Now, I don't know about you but I'd rather put lemons to a better use – maybe into some delicious Lemon Marmalade or a tempting Lemon Drizzle Cake!
The side of the bottle gives us a little more information. It tells us that the cleaning active agents are 'citric acid from natural origin – removes limescale efficiently & surficants from natural origin – remove dirt thoroughly'
It also contains a 'freshness booster', which is described as a natural fragrance with Tangerine & Lime Blossom essential oils (although the front of the bottle states that the fragrance is Tangerine & Orange Blossom…🤔)
Of course a commercial product that has to last for some time needs other ingredients to stabilise the formula but these are also reassuringly from a natural origin.
All good then, this product has 'All of the Cillit Bang expertise united with concentrated star ingredients from natural origins for cleaning that is both efficient and more responsible'.
Removing tough limescale with a natural product can be a tough ask so we found 3 common areas where limescale can build up at different levels to see just how well it works.
Test Number One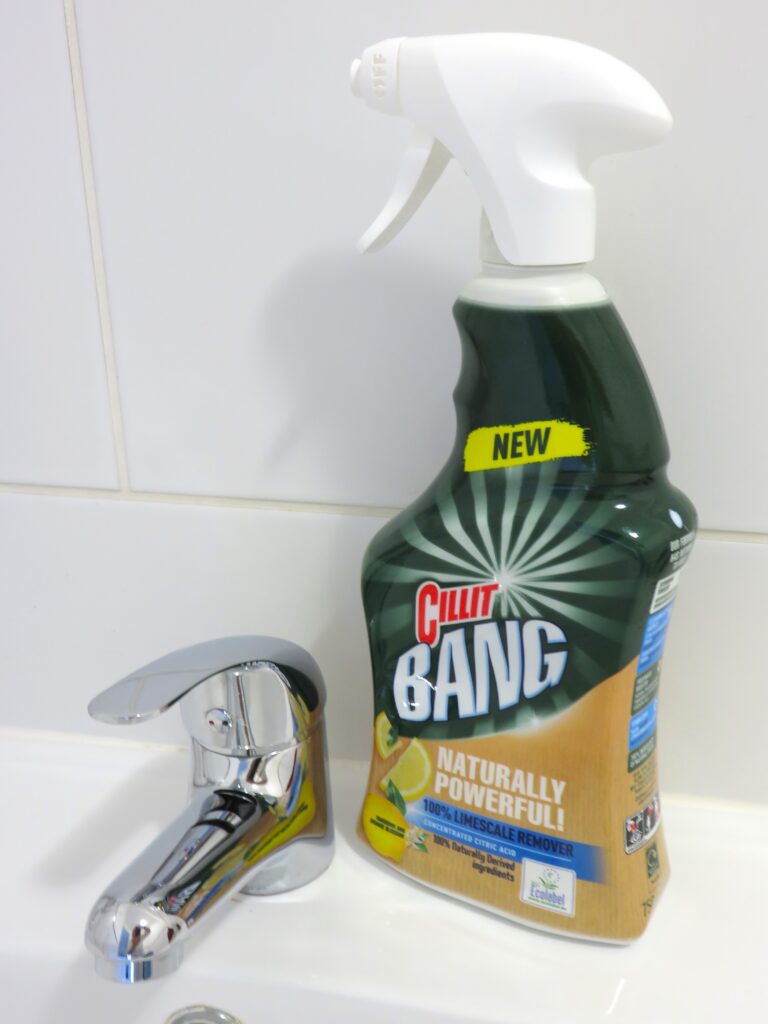 Our first test was quite an easy one – the taps in the bathroom and kitchen!
Now, the taps aren't covered with hardened limescale but inevitably after use during the day they did have water marks on them. To be fair, these marks can probably be polished away with a soft dry cloth if done every day so not a tough test to begin with!
The spray nozzle is actually very efficient at delivering the liquid as a foam to the surface to be cleaned. The foam is reasonably thick but will still slide down vertical surfaces, on flat areas it stays put nicely!
After the recommended 5 minutes the foam was wiped away with just a damp cloth and after a buff with a dry cloth we were really impressed – the taps were absolutely gleaming – sparkling like new with not a hint of the watermarks at all.
Test Number Two
Cleaning The Shower Doors – A slightly tougher test!
Even though we normally wipe down after every shower, we decided to leave it for a few days to see how Cillit Bang would deal with the water marks left after multiple showers.
Spraying plenty of the foam onto the doors, we then used a Minky Cloth Pad to spread the foam all over the glass and left it for the recommended 5 minutes.
This was such an easy clean down with the shower head! Simply washing away the foam with water and then buff dry with a soft cloth.
The results were good and the shower doors certainly looked clean with very little effort – a little more attention to detail on my part would have made the doors sparkle!
Test Number Three
Limescale build up on a kettle
So we really wanted to challenge Naturally Powerful Cillit Bang and test how good it really is at removing a build up of hard limescale, which after all is what it says it can do with only natural ingredients.
We have an old kettle that is used in the shed for when we need hot water without having to traipse through the house to the kitchen – it doesn't get much love!
As you can see in the photos there is a significant limescale build up around the rim of the kettle and inside the spout so we concentrated on these two areas.
Firstly, we just sprayed the foam onto the effected areas and left for 10 minutes to give it a fair try at removal.
After wiping the foam away with a damp cloth we could see – and this was quite a surprise – some of the limescale was indeed starting to dissolve and wipe away. However, it was by no means gone so we decided to give it another shot!
We had a small problem with the foam running down the kettle both inside and outside so to make sure the foam stayed in contact with the limescale we put a small piece of kitchen paper towel inside the spout and soaked that with the liquid. Then we placed a sheet of kitchen paper towel over the top of the kettle and sprayed that too then left it for another 10 minutes to work it's magic.
Wiping down when the 10 minutes were up it was clear that a lot of the limescale was gone…but not quite all of it. We needed to use the Minky pad to gently scrub at the rim of the kettle to remove the last little bits but it took hardly any effort, which shows that the Cillit Bang did indeed remove the limescale almost completely.
What we like about Naturally Powerful Cillit Bang Limescale Remover…
No nasty chemicals!
You expect a product that says it will remove limescale to do just that and in all of our tests it did do a very good job. Significant build up of limescale will require a few treatments to get rid of it altogether but I think any non-naturally derived product would be the same.
The scent is very pleasant and not overly strong. Compared with chemical based products that are extremely harsh this is a very nice feature of this product.
All natural ingredients – this is the main selling point of this product and it is nice to have something that is 100% naturally derived from a big name company and will be easy to find in supermarkets
Essential oils used for fragrance rather than artificial fragrance oils
Bottle & trigger are recyclable (remove the label first)
What we don't like about Naturally Powerful Cillit Bang Limescale Remover…
Non refillable plastic bottle – one of our real bugbears! The trigger doesn't screw off the bottle and so cannot be easily used again (but it can be recycled)
Foam could perhaps be a little thicker but we have seen worse!
So, in summary, we love this product!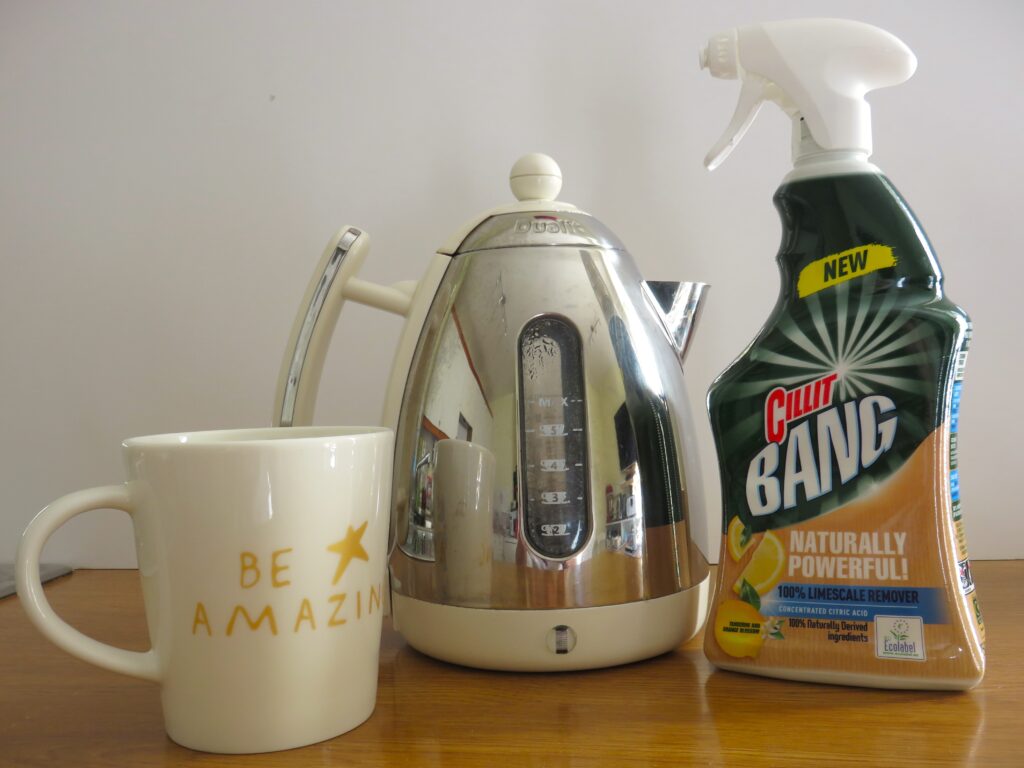 It does a great job in removing limescale and keeping shiny surfaces free from water marks – taps are left sparkling like new! It smells lovely and doesn't contain any harsh chemicals – it's a really convenient way to clean more naturally.
Naturally Powerful Cillit Bang Limescale remover is available from Tesco and most other supermarkets and from Amazon