Sometimes we just need something warming and satisfying and quick to cook so our Chicken with Orzo and Beans recipe fits the bill perfectly and the fact that it's all cooked in one pot is so much the better!
This is such a simple recipe that can be on the table in around 20 minutes and uses just a few ingredients making it a great economic option too.
Orzo is a type of pasta that looks like little grains of rice and it's often used in traditional soups and stews as it is greatly favoured by the Italians and across Europe.
We've used chicken breast but you could use leftover chicken from a roast, sausages or even make it meat-free by adding in chunks of sweet potato or any other root vegetables that you fancy.
There is plenty of choice with herbs & spices too! We've used some dried oregano for a Mediterranean flavour but you could add in some warmer spices like cumin or garam masala or hot things up a bit with some paprika or chilli powder. Experiment and see what you like!
Ingredients
450g diced chicken breast (or sausages, sweet potato, root vegetables etc)
1 tablespoon vegetable oil
2 teaspoons dried oregano
2 x 400g tins chopped tomatoes
1 x 400g tin haricot beans
325ml water
1 x vegetable stock cube
75g savoy cabbage, shredded
150g Orzo pasta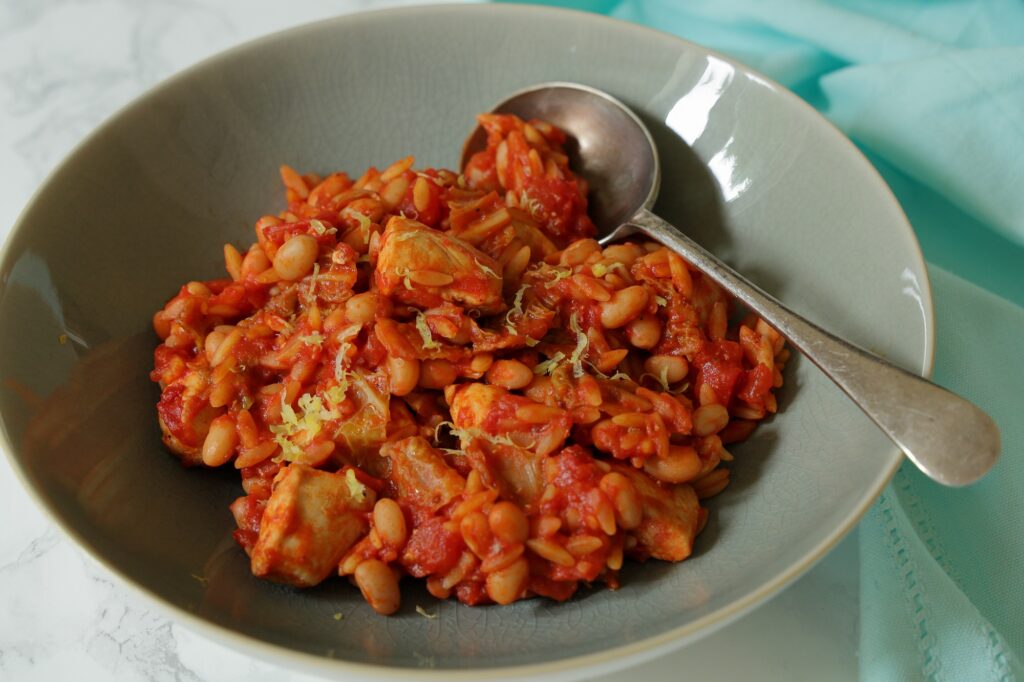 How to Make Chicken with Orzo and Beans
Heat the oil in a large frying pan then add the chicken to brown.
Throw in the shredded cabbage and stir fry for 2-3 minutes to soften.
Add the tinned tomatoes to the pan followed by the haricot beans and oregano and stir everything together
Dissolve the stock cube in the water and stir into the pan.
Bring the mixture to a boil then reduce the heat allow the mixture to simmer for 5 minutes.
Stir in the Orzo pasta and leave to simmer for 10 minutes or until the pasta is cooked.
I like to serve in warmed bowls with a little grated lemon zest if available and some of our warmed Everyday Bread Rolls for those with big appetites!
We Recommend:
Large non-stick frying pan
CLICK ON THE PICTURE TO BE TAKEN TO AMAZON FOR MORE INFORMATION – OPENS IN A NEW TAB