chocolate mousse recipe – how to make this simple dessert
Chocolate mousse can seem quite an indulgent dessert but it's really very simple to make! We all need to indulge every now and then and many of us turn to chocolate when we need something sweet!
This recipe for Very Easy Chocolate Mousse perhaps isn't the most economic but it is certainly very delicious and is a very welcome once in a while treat.
There are only a few ingredients so it is worth buying quality chocolate to make this but, if necessary, this mousse can be made with the cheapest supermarket brand chocolate (such as Tesco's Ms Molly's Dark Chocolate) and it will still taste amazingly good, although not quite as rich and full flavoured as when a higher quality chocolate (such as Lindt) is used!
A word of caution – this recipe does include raw eggs and so is not suitable for very young children, pregnant women, elderly people and anyone whose immune system is weak.
Very Easy Chocolate Mousse – Ingredients
This recipe makes 4-6 servings
100g dark chocolate (70% cocoa solids is best but any dark chocolate will work)
150ml double cream (an extra 100ml will be needed for decoration if required)
2 fresh medium eggs, separated
Break the chocolate up into squares and place in a medium size heatproof bowl.
In a small saucepan, heat the double cream until it just comes up to the boil, then take off the heat and pour over the chocolate.
Stir together until the chocolate is melted and well mixed with the cream.
Add the 2 egg yolks to the chocolate mixture and stir thoroughly to combine everything together well.
In a separate bowl, whisk the egg whites until they form stiff peaks.
Use a large metal spoon to very gently fold about a quarter of the whisked egg whites into the chocolate mixture.
Fold in the rest of the egg whites, making sure there are not white bits left in the chocolate mixture then spoon carefully into individual serving dishes.
Pop into the fridge and chill for at least 3-4 hours before diving in but the longer you leave it the better!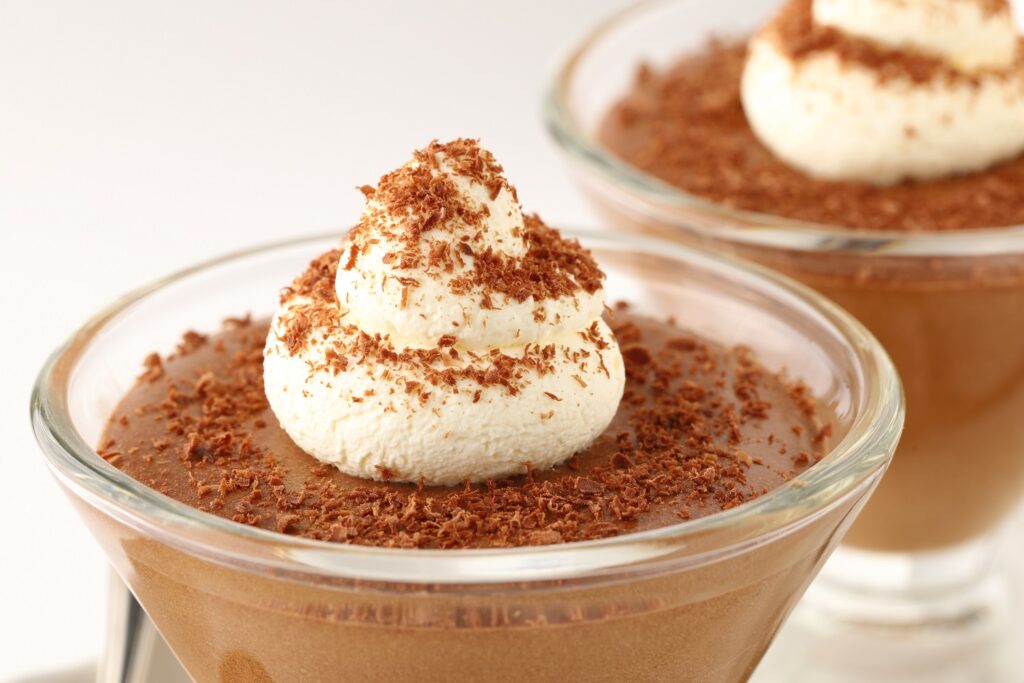 If you would like to make the mousses even more special, carefully whip the extra 100ml of double cream until only just firm then use a piping bag and star shaped nozzle to pipe rosettes on top of each mousse. Finish with mint leaves, grated chocolate or a sprinkle of cocoa if desired to make them look extra special!
This recipe makes a chocolate mousse that is quite soft and melting! If you prefer a firmer texture then you can make the recipe with just 100ml of cream instead of 150ml.
Products we recommend