Potatoes are great! Roasted, chipped, fried, boiled, mashed, there are endless ways to serve them. Sometimes though, it's nice to have a change and this recipe for our so simple Cheese & Onion Potato Bake is a tasty way to give potatoes a twist.
Simple flavours of cheese and onion are a classic combination and work so well with the meltingly tender potatoes.
There aren't many ingredients and as it's baked in the oven, it requires very little attention once the initial assembly is done!
Cheese & Onion Potato Bake Recipe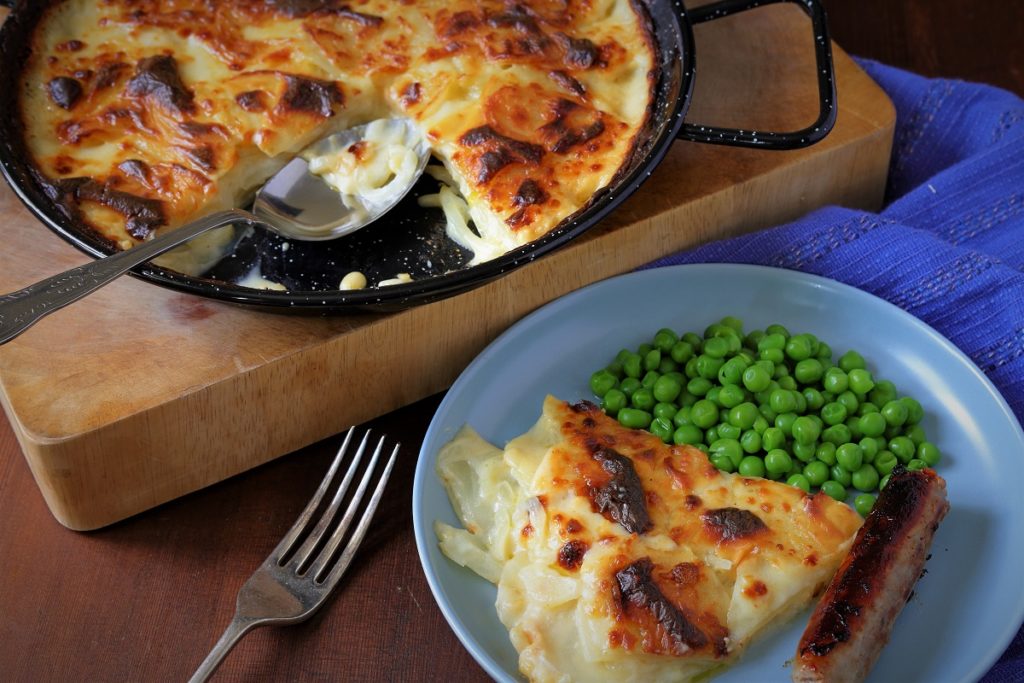 Ingredients
650g potatoes, peeled and thinly sliced
1 medium onion, thinly sliced
40g butter (plus a little extra for greasing)
1 rounded tablespoon plain flour
400ml milk
75g strong cheddar cheese, grated
salt & pepper
You will also need a baking dish – I used a 250mm (10″) round enamel dish but any ovenproof dish will do as long as it is deep enough to accommodate the layers.
Serves 4 (or 2 very hungry people!)
Turn on the oven to Gas 5 / 190°c / Fan 170°c
First, the potatoes and onions both need to be thinly sliced. (You can do this carefully with a knife or if you have a stand mixer with a suitable attachment, then they do a great job. We use a mandoline (link also at the bottom of the recipe) which does a superb job of slicing the potatoes nice and thin!)
Place the potatoes (not the onions!) in a bowl of cold water to remove excess starch & stop them discolouring while you next make the cheese sauce.
In a saucepan gently melt the butter (do not allow it to brown) then add the plain flour, stirring to make a smooth paste (called a roux).
Allow the roux to cook very gently for about 1 minute then start to add the milk slowly, stirring well between each addition. Keep adding small amounts of milk and stirring well until all of the milk has been incorporated and you have a smooth sauce.
Next stir the grated cheese into the sauce, stirring well until it has all melted. The consistency we are looking for is slightly thicker than milk but not as thick as double cream so if the sauce is still a little thick, add some more milk.
Taste the sauce and add salt and pepper to taste.
Take the dish you wish to use and grease it quite generously with butter.
Drain the potatoes and pat dry (spinning them in a salad spinner is a great way to get them dry!)
Put 1/3rd of the potatoes in a layer into the bottom of the dish and add 1/2 of the onions.
Sprinkle over a little salt to season the potatoes then spoon over slightly less than 1/4 of the cheese sauce.
On top of this add another layer of potatoes, using half of the remaining potatoes, followed by the rest of the onions and a little more of the cheese sauce. Don't forget to sprinkle over a little salt to season.
Finally add the rest of the potatoes (and a little salt!) then pour over the remaining cheese sauce, making sure that all of the potato is coated.
Bake in the middle of the oven for around 1 – 1½ hours or until cooked through. Test with a fork to make sure that the potatoes are cooked all the way through and that they are nice and soft!
If the top is browning too quickly, cover loosely with foil.
This is easy to scale up to make a large batch to feed a lot of people and can be baked in a large dish or separate smaller ones.
I love to serve this with garden peas, sausages and crusty bread but it will happily be a side dish almost anything.
Once you've seen how easy this is to make, there are many variations you can try…some crumbled cooked bacon in the middle layer is especially nice!
Here's What We Use: